Features
Technology:
Heel cup – surrounds the heel and stabilizes the ankle during quick changes of direction

Sensory motor spots – stimulate the foot muscle

Antibacterial top cover – inhibits odors

Weightflex® technology – supports the natural mobility of the feet when running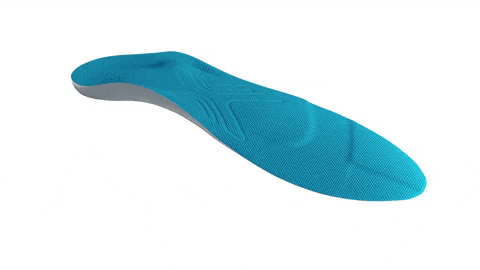 Treatment of:
Foot and arch pain

Flat foot

Splayfoot

Weak arches

Reducing foot fatigue
How to achieve the perfect fit
Step 1
Sizing for this sports insole is based on your European shoe size.
Step 2
The Sports Insole Ball & Racket should slip easily into your shoe. All Bauerfeind insoles have a 1 year warranty and qualify for our 30 day size exchange policy.
Easy Returns
Concerned that your item might not fit properly? Our aim is to ensure you are happy with your Bauerfeind purchase. All Bauerfeind items come with a 30 day return & exchange policy*. Ensuring you of the perfect fit.

Items must be in original condition, with original undamaged packaging and not have been used apart for testing for correct sizing.

*Sale and bundle deals may be subject to return fees, see T&Cs for full details.
Shipping
Your order will be processed quickly. All orders are shipped securely across New Zealand. We offer the following delivery options.

New Zealand

• Free Standard Shipping for orders over $200: 10- 12 business days

• $9.95 Standard Shipping: 10-12 business days

• $19.95 Express Shipping: 1-3 business days metro
The Sports Insoles Ball & Racket is designed to provide the foot and ankle with stability and support when playing ball sports.

The X-shaped Weightflex module maintains the natural movement of the foot while supporting the arch.
The unique, flexible orthotic core supports and guides the foot from below. It actively promotes the natural mobility of the feet, providing support when making quick stops and turns. 
Frequently Asked Questions
What is the difference between the GenuTrain and the GenuTrain P3?
The GenuTrain P3 covers more of the knee, including the lower quads and hamstring. Using a higher grade compression with extensive gel support and a medial strap, it's designed to give a much higher level of patellar support than the standard GenuTrain.
Can I wear this during sport?
The GenuTrain P3 is perfect for wear at any level of sport, and is worn by international athletes on the playing field the world over.
How does the patella tracking work?
The Patella tracking in the P3 works by combining a specialised gel support with an inbuilt adjustable medial strap. This works to prevent the kneecap migrating away from the centre of the joint while still allowing for regular movement.
What injuries/conditions does the P3 treat?
The P3 is great for patella tendinitis, kneecap fractures, IT Band problems, patella dislocation and tracking, lower quad knee issues and more!
What is this item's TGA certification number?
Customer Reviews
You might also like
Shop All
Slide for More